Nov. 17, 2021
Development of New Biometric Measurement System "μ-CAS" That Allows Easy and Highly Accurate Measurement of Muscle Fatigue
Toray Engineering Co., Ltd. (Head office: Chuo-ku, Tokyo, CEO & COO: Takashi Iwade, hereinafter "Toray Engineering") has developed the biometric measurement system "μ-CAS" capable of measuring muscle fatigue that comes with swelling.
"μ-CAS" is a system that allows easy and highly accurate measurement of muscle fatigue by detecting the changes in bioelectrical impedance caused by swelling.
Currently, to further utilize this measurement data, Toray Engineering is developing applications that store and analyze measurement results. The plan is to commence provision of services—such as one that proposes effective training and condition management methods for sports athletes—in 2023.
In general, muscle fibers are trained through repeated muscle fatigue and recovery to increase muscle power, although exercising in a state of insufficient recovery may cause damage to muscle fibers. Various methods have been tried in the past to quantitatively evaluate and measure muscle fatigue, such as measuring the waveform changes in myoelectricity—the weak electrical currents that occur in muscles during exercise—and changes in the concentration of fatigue substances in the blood. However, the measurement of myoelectricity is easily affected by noise and factors other than muscle fatigue, and the measurement of fatigue substance concentration in the blood has the problem of lacking convenience as it requires blood to be drawn.
In most cases, muscles in a state of fatigue come with swelling. Swelling is a state where water accumulates in muscles, and this water lowers the bioelectrical impedance of muscles. Therefore, there were attempts to measure muscle fatigue through direct measurement of swelling as well as by measuring bioelectrical impedance. However, there is a limit to how easily swelling can be measured with high accuracy. Furthermore, a majority of the past methods for measuring bioelectrical impedance used electrical currents external to the body, which had issues such as significant psychological resistance and the need for electric shock prevention and other safety measures.
Toray Engineering's "μ-CAS" does not directly measure changes in myoelectricity generated by muscles, nor does it convert bioelectrical impedance. By measuring bioelectrical impedance without using external electrical currents, it succeeded in measuring muscle fatigue while avoiding the issues of past measurement methods.
Toray Engineering will exhibit this system at SPORTEC 2021, Japan's largest general exhibition for the sports, fitness, and health industries, which will be held at Tokyo Big Sight from December 1 to 3.
Under the slogan "Solution by Technology, Engineering & Know-how," Toray Engineering will contribute toward realizing a better society of the future by providing solutions that apply not just the engineering capabilities developed since the company's founding but also the latest technologies and know-how.
The details of the newly developed "μ-CAS" are as follows.
Product name:

μ-CAS

Technological features:

Achieves measurement of bioelectrical impedance by using weak electrical currents (myoelectricity) generated by muscles during exercise

Product features:

Allows measurement of muscle fatigue that comes with swelling
Allows measurement for each muscle
Portable as it is lightweight and battery-operated

Usage:

Creation and proposal of training plan optimized for the individual (under development)
Support for injury prevention and early recovery
Expansion to medical equipment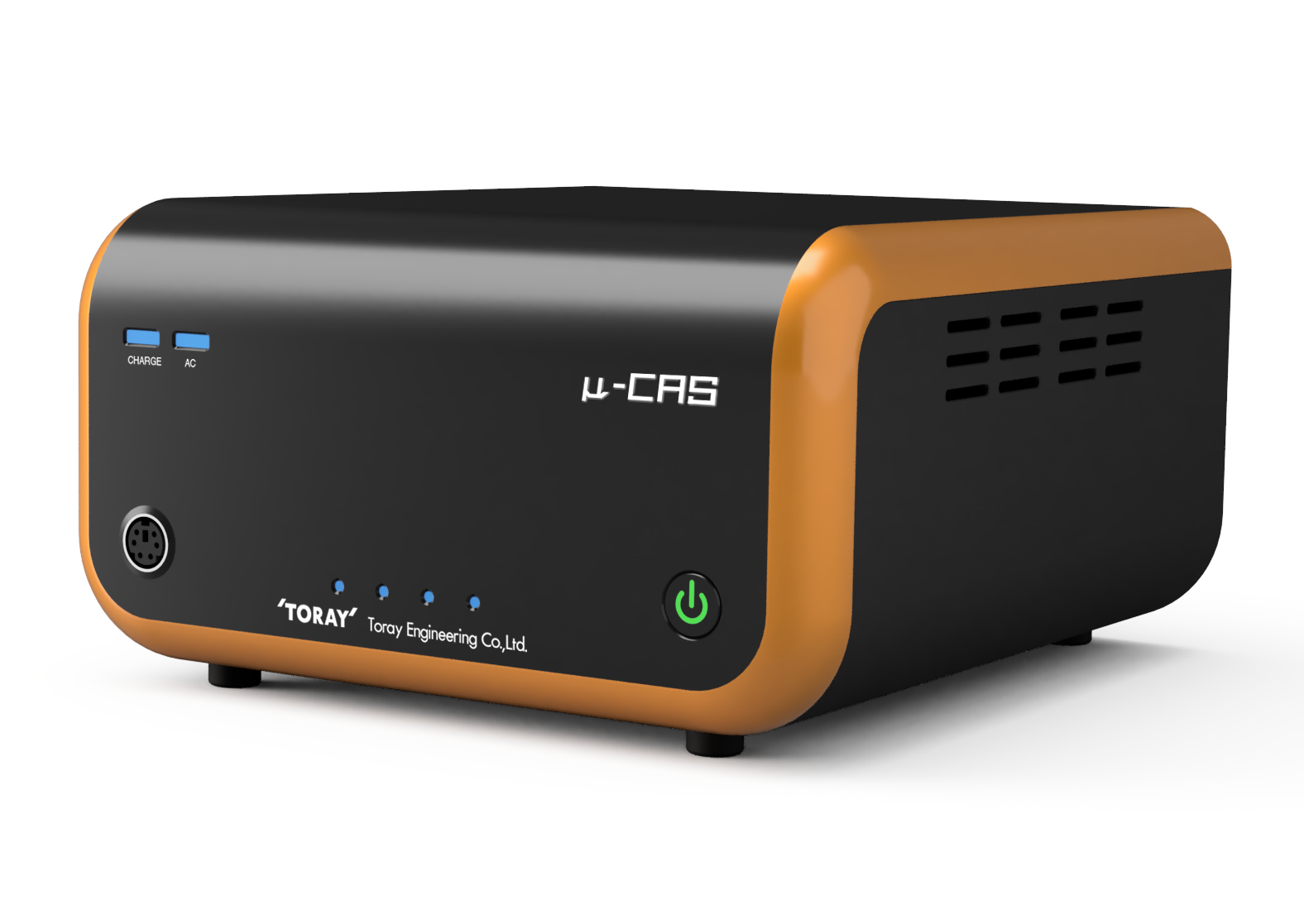 Biometric measurement system "μ-CAS"
Supplementary explanation
This system targets muscle fatigue that comes with swelling. Currently, it is difficult to measure muscle fatigue that does not come with swelling.
The term "muscle fatigue" in this release refers to a state of reduced muscle power due to damaged muscle fibers caused by exercise.
Reference
Type:

General exhibition for the sports, fitness, and health industries

Period:

December 1 to 3, 2021

Venue:

South Halls 1 to 4, Tokyo Big Sight