September 13, 2022
Toray Engineering Co., Ltd.
Exhibit at "SEMICON Taiwan 2022"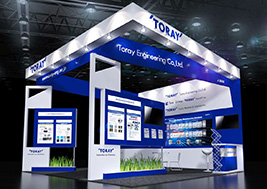 Toray Engineering Booth (image)
 Toray Engineering Co., Ltd. (head office: Chuo-ku, Tokyo; CEO & COO: Takashi Iwade; hereinafter "Toray Engineering") exhibits at "SEMICON Taiwan 2022" held from September 14 (Wed.) through 16 (Fri.), 2022.
 At its booth, Toray Engineering will present Optical Wafer Inspection System for the semiconductor market, Luminescence Defect Inspection System for compound semiconductors, and total solutions that the Toray Engineering group offers for mini/microLED manufacturing processes, particularly focusing on inspection and packaging processes.
 In addition, during the exhibition, on September 16, its staff member will give a presentation of the total solutions for microLED display manufacturing processes.
 Toray Engineering continues to contribute to society, offering cutting-edge solutions for Monozukuri (manufacturing) through its technology, engineering, and know-how.
 Below are additional details about the exhibition.
Note
1. Exhibition name
:
SEMICON Taiwan 2022
2. Date
:
September 14 to 16, 2022
3. Venue
:
Taipei Nangang Exhibition Center
4. Official website
:
https://www.semicontaiwan.org/en
5. Toray Engineering Booth
:
Booth No. J2656
6. Exhibition
:

(1)Optical Wafer Inspection System for the semiconductor market
(2)Luminescence Defect Inspection System for compound semiconductors
(3)Semiconductor inspection system using AI technology
(4)Total solutions for mini/microLED manufacturing

7. Conference presentation
:

(1)Date : 14:15 to 14:35, September 16
(2)Title : Toray's Total Solutions for Mass Production of Micro LED Display