April 12, 2023
Toray Engineering Co., Ltd.
Exhibit at the international display exhibition, "Touch Taiwan 2023"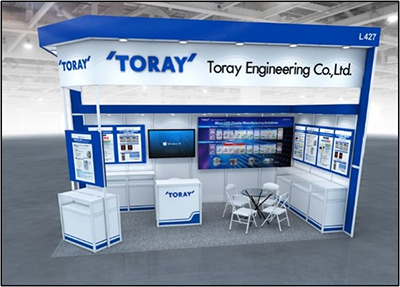 Toray Engineering Booth (image)
 Toray Engineering Co., Ltd. (head office: Chuo-ku, Tokyo; CEO & COO: Takashi Iwade; hereinafter "Toray Engineering") will exhibit at "Touch Taiwan 2023" held in Taipei, Taiwan, from April 19 (Wed.) through 21 (Fri.), 2023.
 At its booth, Toray Engineering will present total solutions from transfer equipment, trimming equipment, and wafer visual photoluminescence inspection equipment for microLED display production, to Toray Group's materials and analysis and evaluation.
 In addition, Toray Engineering is going to have a presentation titled "Toray's Total Solutions for Mass Production of MicroLED Display" at the International Micro/Mini LED Display Conference on April 20 (Thu.) and we are happy to welcome you who are interested in microLED production technology and systems.
 Toray Engineering continues to contribute to society, offering new solutions for Monozukuri (manufacturing) through its technology, engineering, and know-how.
 Below are additional details about the exhibition.
Note
1. Exhibition name
:
Touch Taiwan 2023
2. Date
:
April 19 (Wed.) to 21 (Fri.), 2023
3. Venue
:
Taipei Nangang Exhibition Center
4. Official website
:
https: //www.touchtaiwan.com/
5. Toray Engineering Booth
:
No. L427
6. Exhibition
:

(1)Total solutions for microLED display production
(2)Flip chip bonder and laser transfer equipment
(3)Photoluminescence inspection equipment and wafer visual inspection equipment for microLED production

7. Conference presentation
:

(1)Date :  April 20, 10:40 a.m. to 11:10 a.m.
(2)Venue : Conference Room 401, Hall 1, fourth-floor of Nangang Exhibition Center
(2)Topic : Toray's Total Solutions for Mass Production of MicroLED Display