May 15, 2023
Toray Engineering Co., Ltd.
Opening Ceremony Held for Toray Engineering Europe GmbH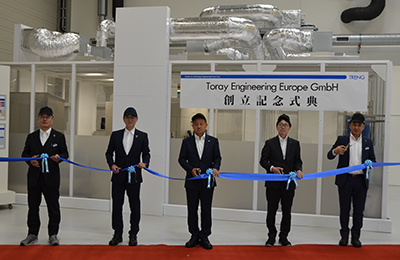 Photo from the opening ceremony
(Toray Engineering CEO & COO Takashi Iwade in center)
Toray Engineering Co., Ltd. (head office: Chuo-ku, Tokyo; CEO & COO: Takashi Iwade; hereinafter "Toray Engineering") announces that it has established Toray Engineering Europe GmbH (hereinafter "TRENGEU") in Munich, Germany and held an opening ceremony on May 12, 2023.
Serving as a hub for Toray Engineering Group product sales and customer service in Europe, it will strengthen Toray Engineering's capability to provide solutions to existing customers and new customers in the region.
Due to the accelerating transition toward electric vehicles (EVs), the demand for lithium-ion batteries (LIB) and power semiconductors for automobiles is rapidly increasing. Within Europe, both the construction and expansion of LIB production facilities is quickly progressing, while the demand for inspection systems used in the manufacture of power semiconductors is expanding as well.
In response to these developments, Toray Engineering has been engaged in creating proposals and performing customer service for the European market from Japan, primarily for coating systems for LIB electrodes and the semiconductor inspection system INSPECTRA® series. With the establishment of TRENGEU, a new structure for quickly providing detailed proposals and service has been put in place. By deploying Toray Engineering's products through TRENGEU in Europe, we will accelerate our global business expansion.
Toray Engineering is committed to contributing to the achievement of the SDGs through addressing global issues by providing innovative technologies in the manufacturing process, in accordance with the Toray Group Sustainability Vision. We will continue to contribute to society by advancing the global deployment of manufacturing equipment and systems for products relevant to the realization of a carbon-neutral society.
<Overview of the TRENGEU>
| | | |
| --- | --- | --- |
| 1. Company Name | : | Toray Engineering Europe GmbH |
| 2. Location | : | Munich, Federal Republic of Germany |
| 3. Representative | : | Jun Inagaki, President |
| 4. Line of Business | : | Sales, maintenance and repair of Toray Engineering Group products |
| 5. Capital | : | EUR 25,000 |
| 6. Established | : | April 2023 |