June 21, 2023
Toray Engineering Co., Ltd.
Enhancement of Core Shell Method CF Composite Material 3D Molding Machine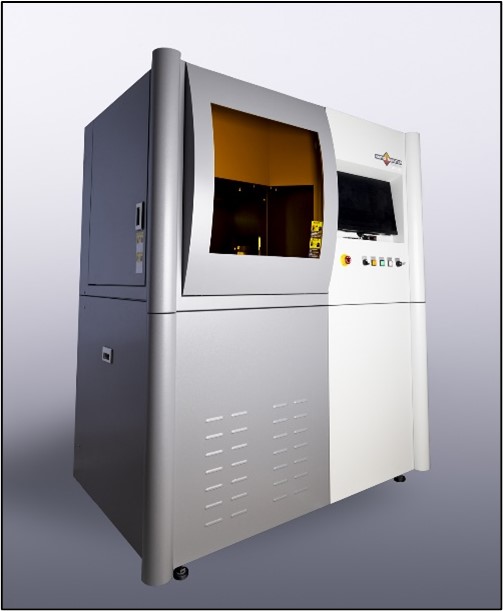 Core shell method CF composite material 3D molding machine
Toray Engineering Co., Ltd. (head office: Chuo-ku, Tokyo; CEO & COO: Takashi Iwade; hereinafter "Toray Engineering") has developed a new model with enhanced functions and increased molding space for its existing carbon fiber (CF) composite material 3D molding machine that uses the core shell method.
The new model will enable molding of about twice the size compared to the previous model, which is expected to expand the range of moldable products and improve molding efficiency by enabling parallel molding of small parts.
3D printers used to fabricate 3D objects are known to have "anisotropy" in strength and rigidity as they layer resin and metal materials in the vertical direction, making the mechanical strength and rigidity in the vertical direction inferior to that in the horizontal direction. The core shell CF composite material 3D molding machine Toray Engineering developed reimagines the molding method and uses a light-curing 3D printer to shape the shell, which serves as the mold, little by little while the thermosetting CF composite material is sequentially poured into the mold, and finally the liquid CF composite material is thermoset at once. In this way, the device succeeds in producing moldings without "anisotropy" because, in principle, strength and rigidity are uniform within the molding object, since it is not a layered structure with materials stacked in the vertical direction when it comes to the CF composite material alone. Applying CF composite materials to this molding method enables moldings to be produced with higher strength and rigidity.
Now, we have succeeded in introducing a core material filling mechanism that maximizes the effective use of the molding space inside the stereolithography 3D printer through Toray Engineering's advanced design technology, achieving an increase in the molding space.
Toray Engineering has installed the core shell method CF composite material 3D modeling machine at its Second Head Quarter (Otsu, Shiga), and is conducting an "open lab" initiative to further improve the functionality and tuning of the machine through prototype modeling by customers. We plan to add the new model to the lineup in the open lab and begin its operation. Previously, the open lab has been conducted at Toray Engineering's Yokohama Office (Yokohama, Kanagawa). Now, it will be moved to the Second Head Quarters, enabling Toray Engineering to make comprehensive proposals in conjunction with other development technologies we offer. The new model is planned to be exhibited at the Additive Manufacturing Expo to be held from June 21 to 23. Taking the opportunity of this exhibition, Toray Engineering aims to develop its open lab initiatives into full-scale operations and propose a wide range of solutions.
Toray Engineering continues to contribute to society, offering cutting-edge solutions for Monozukuri (manufacturing) through its technology, engineering, and know-how.
Below are additional details about the enhanced machine.
Note
1. Product name
:
Core shell method CF composite material 3D molding machine
2. Features
:

(1) Mechanical properties of moldings are "isotropic"
(2) Use of epoxy thermosetting resin containing milled carbon fiber (CF) allows for high-rigidity/high-strength moldings
(3) Almost as easy to process as conventional resins
(4) Approximately twice the molding space of the previous model

3. Applications
:
Various prototype parts, jigs, lightweight and high-strength products, and healthcare field
<Overview of Additive Manufacturing Expo>
| | | |
| --- | --- | --- |
| 1. Exhibition name | : | Additive Manufacturing Expo |
| 2. Date | : | June 21–23, 2023 10:00–18:00 (until 17:00 on the last day) |
| 3. Venue | : | Tokyo Big Sight |
| 4. Official website | : | https://www.manufacturing-world.jp/hub/en-gb/about/am.html |
| 5. Toray Engineering booth | : | 10-33 (Exhibited in Toray Group booth) |
<Reference>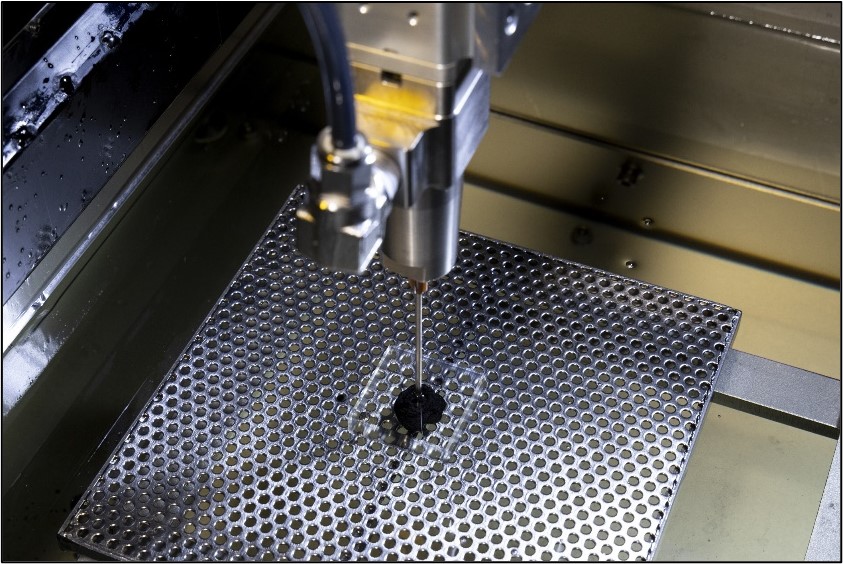 Image of molding space