Hydrophone
Ultra-compact receive-only transducer
A hydrophone is an ultra-compact, receive-only transducer that is specially designed for measuring underwater ultrasound acoustic fields. It has a high resolution and is capable of measuring a wide range of frequencies.It uses Toray's unique P (VDF-TrFE) polymer piezoelectric material.
The acoustic impedance is close to that of water, so there is minimal difference in sensitivity between resonant and non-resonant frequencies. It has a large resonance peak, accurately reproducing incident waves over a wide range.
It has a wide incidence angle tolerance, making it easy to adjust the hydrophone's angle.
It is made with polymer material with a high electromechanical coupling factor and upper usage temperature limit, and is highly resistant to temperature changes, offering a stable, high level of performance.
Needle hydrophone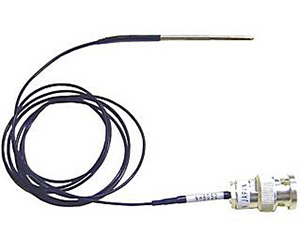 Model:HY05N
When spatial resolution is required
Needle hydrophone Specifications
| | |
| --- | --- |
| Effective diameter | 0.5mm |
| Outer diameter at tip | 1.4mm |
| Length | 74mm |
| Receivable frequency | 1MHz~20MHz |
| Sensitivity | 40nV/Pa at 3MHz typical |
| Electrical properties | -500ohm imaginary |
| Cable length | 1 m coaxial cable with BNC connector |
| Miscellaneous | Certification of calibration can be provided if needed (extra fee applies) |
Needle hydrophone performance data example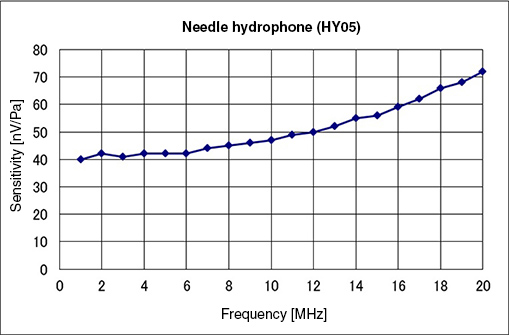 Large-diameter hydrophone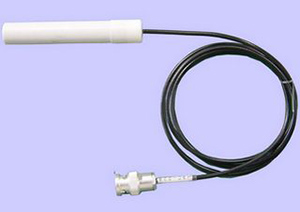 Model:H9C
When high sensitivity is required
Large-diameter hydrophone Specifications
| | |
| --- | --- |
| Effective diameter | 9mm |
| Outer diameter | 14mm |
| Length | 90mm |
| Receivable frequency | 0.5MHz~5MHz |
| Sensitivity | 5 nV/Pa or more |
| Electrical properties | -500ohm imaginary |
| Cable length | 1 m coaxial cable with BNC connector |
| Miscellaneous | Certification of calibration can be provided if needed |
Large-diameter hydrophone performance data example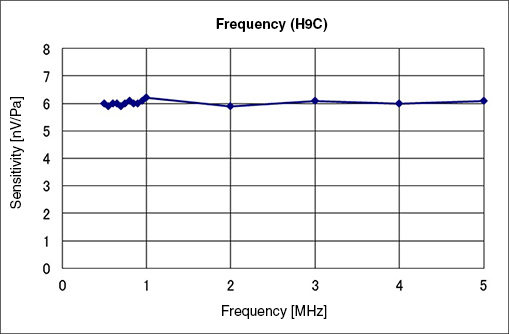 Inquiries
East Japan : +81-3-5962-9775

West Japan : +81-77-544-6224