Ultrasonic Transducers
High quality transducers using Toray's own P (VDF-TrFE) film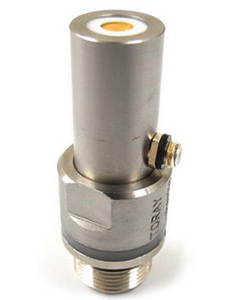 Our transducers can be mounted on ultrasonic sending and receiving sensors which are primarily installed ultrasonic microscopes and medical ultrasonic diagnostic equipment.
These also can be mounted on nondestructive inspection sensors which are installed industrial applications.
These can meet your expectation by wide frequency range, from 20 MHz to 150 MHz, and these have good flexibility, and also can be mounted on any shape of the transducers.
Ultrasonic transducer models and specifications
| Type | Frequency (MHz) | Diameter (mm) | Focal distance (mm) |
| --- | --- | --- | --- |
| PT20-3-10 | 20 | 3 | 10 |
| PT20-6-50 | 20 | 6 | 50 |
| PT25-6-20 | 25 | 6 | 20 |
| PT25-8-20 | 25 | 8 | 20 |
| PT30-6-12.7 | 30 | 6 | 12.7 |
| PT35-6-30 | 35 | 6 | 30 |
| PT40-6-20 | 40 | 6 | 20 |
| PT50-3-F | 50 | 3 | ∞ |
| PT50-3-10 | 50 | 3 | 10 |
| PT50-4.5-12.7 | 50 | 4.5 | 12.7 |
| PT50-6-12.7 | 50 | 6 | 12.7 |
| PT50-6-15 | 50 | 6 | 15 |
| PT50-6-25 | 50 | 6 | 25 |
| PT75-2.6-5 | 75 | 2.6 | 5 |
| PT75-2.6-F | 75 | 2.6 | ∞ |
| PT75-3-9 | 75 | 3 | 9 |
| PT75-3-12.7 | 75 | 3 | 12.7 |
| PT75-3-15 | 75 | 3 | 15 |
| PT75-3-F | 75 | 3 | ∞ |
| PT80-1.2-1.5 | 80 | 1.2 | 1.5 |
| PT100-1.2-1.5 | 100 | 1.2 | 1.5 |
Inquiries
East Japan : +81-3-5962-9775

West Japan : +81-77-544-6224