Water Quality Analyzers

Total Phosphorous/Nitrogen (TP/TN) Automatic Analyzer

TPN-100
TPN-100 water quality analyzer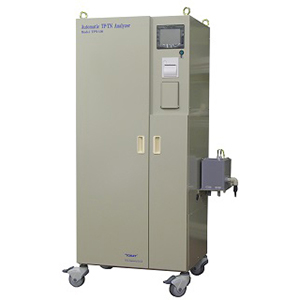 Toray's total phosphorous/nitrogen automatic analyzer rapidly and accurately performes automatic analysis of total phosphorus and nitrogen content such as in rivers, lakes and marshes, sea areas and plant wastewater by online.
It uses a measurement method (autoclave method) conformant with official methods, producing the same values as hand analysis, enabling them to perform highly reliable measurements.
This innovative device, with convenience and economy, is easy to operate, easy to maintain, and highly reliable.
Features
Official method-conformant measurement method

This analyzer uses an official method-conformant measurement method (autoclave method), producing results which correlate closely to manual analysis results. Compared to the ultraviolet degradation method, This analyzer ensures highly reliable measurement values.

Greatly reduced test reagent usage (1/2 of past Toray models)

This device uses half the test reagent volume as past Toray models, and is made with components that offer long-term reliability, reducing maintenance costs.

Negative pressure suction method, high endurability against suspended substance

Negative pressure suction method prevents dirtying of sampling tube. Resists clogging and ensures long-term, stable measurement.
Resists clogging and ensures long-term, stable measurement

Space-saving

No maintenance space is needed for the rear or left side of the device.
Takes little space, making it possible to use space effectively.

Others

Load calculation function, built-in printer, USB memory stick function. Available to install together with UV and TOC analyzers (including load calculation for three constituent measurement)
TPN-100 measurement process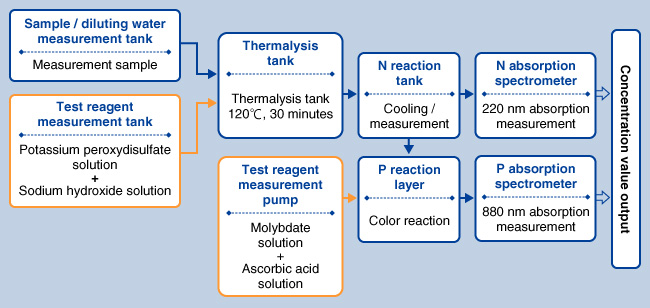 Specifications
Measurement method
TP
Molybdenum blue absorptiometric method

TN
Ultraviolet absorptiometric method
Measurement range
TP
1 range, from 0-0.10 mgP/L to 0-1.0 mgP/L
TN
1 range, from 0-2.0 mgN/L to 0-5.0 mgN/L
Dilution factor
Fixed, between 2 and 25x (internal dilution)
Measurement mode
Online/offline
Measurement time
60 minutes (repeated measurement, measurement on the hour, measurement in regular intervals (1 to 24 hours))
Display
Digital display
Recording method
Printer (per-measurement printing, printing of report for previous day, printing of report for previous month)
Span calibration
Manual calibration, automatic calibration
Zero calibration
Manual calibration, automatic calibration
Load calculation function
Available as an additional option
Dimensions
700 mm (W) ×600 mm (D)×1500 mm (H)
Weight
150 kg
Paint color
Munsell 5Y 7/1 medium gloss
Repeatability
±3% FS 21 to 25x dilution: ±4% FS
Linearity
±3% FS 21 to 25x dilution: ±4% FS
Zero stability
±3% FS/day 21 to 25x dilution: ±4% FS
Span stability
±3% FS/day 21 to 25x dilution: ±4% FS
Measurement value output
External output: DC 4 to 20 mA, outputs: TP and TN measurement values
Abnormality signal output
Device error
TP concentration upper/lower threshold error
TN concentration upper/lower threshold error
Sample conditions
Freshwater sample
Sample amount
Online: 0.4 L to 0.6 L/min (at analysis intake port)
Offline: 50 mL/measurement
Pressure
Online: 0.02 to 0.05 MPa
Offline: Normal pressure (automatic suction)
Temperature
3 to 40°C (with no condensation)
pH
5.8~8.6
Installation conditions
Indoor, ambient temperature: 5 to 40°C, ambient humidity 85% RH or below
Test reagent
Potassium peroxodisulfate
Sodium hydroxide
Ammonium molybdate
Concentrated sulfuric acid
Antimony tartrate
Ascorbic acid
Purified water for adjusting test reagent
Power
AC 100 V±10 V, 50/60 Hz, power consumption: 600 VA
Specifications are subject to change in order to make product improvements.
Total phosphorous: Also written as "TP"
Total nitrogen: Also written as "TN"
Inquiries
East Japan : +81-3-5962-9775

West Japan : +81-77-544-6224