Water Quality Analyzers

Automatic UV Analyzer

UVT-300
UVT-300 water quality analyzer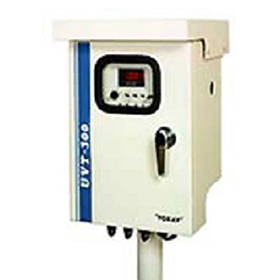 The UVT-300 inherit from the strengths of the many UV analyzers we have developed through the years, while also offering exceptional usability and maintainability.
Features
Cell washing mechanism with no drive mechanism
High-speed response and fully continuous measurement
Optical system enables high-accuracy measurement with stability over the long term
Direct reading digital display.
Easy to install, can be installed virtually anywhere
Reduced maintenance and management
Wide range of options
Measurement principle
Light, from a light source lamp passes through the sample cell, is split into two directions using a half-mirror. The amounts of transmitted UV and visible light are detected by photocells. Part of the light from the lamp directly enters a photocell on the light source side, and the amounts of radiated UV and visible light are detected. By processing these four detection signals, it is possible to measure turbidity-corrected UV absorbance (UV-VIS) with automatic correction for the effects of changes in the turbidity of the sample water and changes in the emission intensity of the light source lamp.
Specifications
Measurement range
0–0.5/0–1.0 absorbance (10 mm square cell conversion, 2 range switching)
or 0–1.0 / 0–2.0 absorbance (10 mm square cell conversion, 2 range switching)
(VIS is guaranteed only for absorbance of 0–1.0)
Measured quantities
Turbidity-corrected UV absorbance (UV-VIS)
UV absorbance (UV)
Visible light absorbance (VIS)
Measured wavelengths
UV
254nm
Visible light
546nm
Measurement cycle
5 - 99 min 59 seconds
Measurement method
2-light path, 2-wavelength UV absorbance measurement method
Calibration method
Span calibration
Manual
Zero calibration
Manual
Conversion function
-
Washing
Automatic washing with stream of washing cleaner
(continuous measurement also performed during washing)
Range setting
Manual switching
Type
Standalone cubicle panel
Dimensions
300 mm (W) × 515 mm (D) × 352 mm (H)
Weight
Approx. 25 kg
Standard liquid
Potassium hydrogen phthalate aqueous solution
Repeatability
Within ±1% of full scale
Zero stability
Within ±2% of full scale/day
Span stability
Within ±2% of full scale/day
Ambient temperature change
Within ±2% of full scale/5°C
Measurement value output
External output
DC4~20mA

Non-voltage contact
AC 100 V 1 A, DC 24 V 1 A
Error alarm indication
LED display, closed contact output in case of error (AC 125 V, 1 A)
Alarms
Maintenance
Power interruption
Malfunction
Lamp burnout
Sample conditions
0.03 to 0.2 MPa, 2 to 10 L/min (with no freezing)
Test reagents/utilities
-
Power
AC 100 V±10 V 50/60 Hz, approx. 100 VA
Installation conditions
-10 to 40°C during operation (temperature gradient of 10°C/hour or less)
45% to 95%RH (with no condensation)
Specifications are subject to change in order to make product improvements.
Inquiries
East Japan : +81-3-5962-9775

West Japan : +81-77-544-6224