Water Quality Analyzers

Desktop TOC Analyzer (for laboratory use)

TOC-250L
TOC-250L water quality analyzer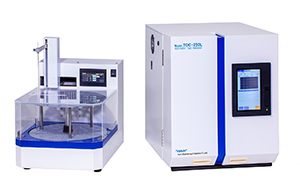 This TOC analyzer adopts Toray's unique 650℃ cryogenic temperature sealed combustion system which has been highly experienced to continuously measure polluted water for 24 hours online. By this experience, this TOC analyzer for laboratory combines high reliability and stability for various samples.
The TOC-250L is an all-rounder to measure from clean water to natural water, such as TC, NPOC, by option, IC and TOC (TC-IC). Also, it has standard range 0-2~2,000mg/L, and measurable up to 40,000 mg/L with dilution function.
Features
Various samples are available to measure with the reliable catalyst technology and combustion system. Also, adopting a high durable catalyst for effluent in environmental field.
Stable complete decomposition is available by Toray's unique 650℃ cryogenic temperature sealed combustion system.
A simple structure and less maintenance parts. Easy to replace parts.
Auto sampler can be selected from 8 samples to 60 samples at the maximum. Agitating function is also equipped.
Application
Best for various sample measurements regardless of the concentration from clean water to natural water.
Hot spring water, Pool water, Water and sewage, etc.
Management of effluent treatment facilities, experiment, estimation.
Research and observation for organic pollution substances in natural environmental water such as rivers, lakes, dams, sea area, etc.
Research and development in the research and test institutes.
Measurement principle
A small amount of hydrochloric acid is added to a sample to lower its pH to 3 or below and then inorganic carbon is eliminated through bubbling. The sample is then poured into a reaction tube with catalyst and converted into carbonic dioxide by means of sealed combustion oxidation. The concentration of the converted carbon dioxide is measured using an infrared light analyzer. Total organic carbon is calculated based on the carbon dioxide gas concentration registered in advance in the data processing unit and the TOC concentration.
Specifications
Model
TOC-250L
Measuring Object
Organic contaminant in water
Measuring Item
TC NPOC (Hydrochloric acid aeration IC removal method), Option: IC TOC (TC-IC)
Measuring Method
Total carbon measurement: Automatic intermittent type sealed combustion - infrared analysis
Inorganic carbon removal: Automatic intermittent type hydrochloric acid aeration method
Inorganic carbon measurement: Automatic Intermittent type hydrochloric acid aeration - Infrared analysis
Measuring Range
TC, NPOC: 0-2 ~ 2,000 mgC/L (Measurable up to 40,000mgC/L by dilution)
IC: 0-2~2,000 mgC/L (Measurable up to 40,000mgC/L by dilution)
Measuring Cycle
Approx. 4.5 min. ~ (excluding preprocessing time and cleaning time)
Reproducibility (Repeatability)
Coefficient of variation: within 1.5% or within +0.05mgC/L, whichever is bigger.
Linearity
Within +2 % FS or within +0.05 mgC/L, whichever is bigger.
Minimum Detection Limit
Less than 0.05 mgC/L (High sensitivity spec.: Less than 0.02 mgC/L)
Injection Volume
20 ~ 300 UL Changeable
Sample Dilution
Dilution rate: 2 ~ 20 times, Dilution accuracy: Within +3%
Display
Color LCD touch screen, Digital display (mg/L, Display up to 3rd decimal places)
Communication Output
PC control function (option), Measurement data can be saved up to 9,000 data with CSV format on USB.
RS-232C RS-485 (Option)
Printer
Thermal printer (RS-232C] (Option)
Sensitivity Calibration
Total Carbon(TC): Manual calibration with potassium hydrogen phthalate solution.
Inorganic Carbon: Manual calibration with sodium cathonate anhydride and sodium bicarbonate solution.
Carrier Gas
0.3MPa, Nitrogen(99.9% or more) or compressed air, Consumption: Approx. 10 Nm /month (It will change depending on the condition of IC aeration (CO2 removal filter is required if compressed air is used for carrier gas. No moisture / no oil.)
Power Source
AC100V±10V 450VA Power consumption: Approx. 400W
Setup Location
Indoor, Ambient Temperature: 5 - 40°C
Dimensions / Weight
420±5(W)x522±5(D)x532±5(H)mm (excluding protrusions), Approx. 45kg
TOC-250L options
Options For customers who want to measure several samples easily!
Auto Samplers
Aeration agitating and stirrer agitating are equipped as options.
Reducing the influence of contamination by cleaning the liquid passage line.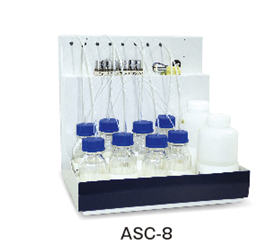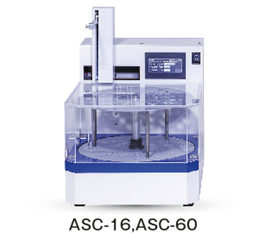 | Model | ASC-8 | ASC-16 | ASC-60 |
| --- | --- | --- | --- |
| Sample Quantity | 8 | 16 | 60 |
| Volume (mL) | 250 | 50 | 15 |
| Agitating Function | Aeration agitating | Stirrer (Option) | Stirrer (Option) |
| Dimensions | 420(W)x330(D)x420(H)mm | 340(W)x460(D)x495(H)mm | 340(W)x460(D)x495(H)mm |
| Weight | Approx. 15.0kg (Main unit only) | Approx. 16.5kg (Main unit only) | Approx. 16.5kg (Main unit only) |
PC control function
Connectable to not only PCs but also tablets are available.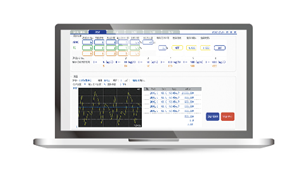 Inquiries
East Japan : +81-3-5962-9775

West Japan : +81-77-544-6224