Oxygen Analyzers

Oxygen Analyzer for Semiconductors, Electronic Components

MS-500, LC-450A, LC-450D, LC-860
Model: MS-500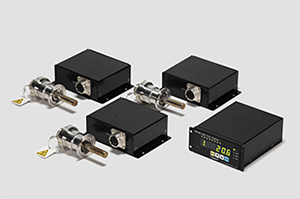 Capable of measuring up to 8 points simultaneously
Displays wide range of concentrations, from ppm level to 100%
Best for mounting in semiconductor manufacturing equipment, vacuum equipment, etc.
Direct insertion type sensor (NW 16/25/40 flange for vacuum )
Special coating used on high durable sensors for greater durability
MS-500 specifications
Measurement principle
Zirconia concentration cell type
Type
Separate-type (converter: wall-mounted; sensor: direct insertion type)
Display system
4-digit digital display (concentration display)
Measurement range
0-1 / 10 / 100 / 1000ppm / 1 / 10 / 100vol%O2 10-20~10-0atm
Automatic range
Repeatability
Within ±0.5% of full scale; range of 0-1% or more
Within ±1% of full scale or ±0.1 ppm, whichever is larger; range of less than 0-1%
Concentrations in the 0-1 ppm, atm range are out of warranty.
Number of measurement points
1~8
Sample gas requirements
Pressure
10-3to 200KPa (absolute pressure)
Flow rate
0.5 to 5,000 mL/min or 0 mL/min (measurement in state of natural dispersion)
Humidity
Dew point below ambient temperature
Temperature
0 to 100°C
Others
Must not contain corrosive gas (fluorine gas, chlorine gas, sulfuric gas, etc.), gas containing organic silicone, flammable substances (including gas), oil or moisture
Reference gas
Atmosphere
Recorder output
Transmission output only
Transmission output
RS-232C
Alarm output
None
Warmup time
6 minutes or less
Dimensions
MS-500(controller)
92 mm (W) ×44 mm (H)×120 mm (D)  (excluding projecting parts)
MS-510(converter)
100 mm (W) ×40 mm (H)×88 mm (D)  (excluding projecting parts)
Sensor unit
SD16NW
Overall length 100mm(sensor ⌀ 11×39,body ⌀ 40×51)
SD25NW
Overall length 100mm(sensor ⌀ 11×42,body ⌀ 40×48)
SD40NW
Overall length 100mm(sensor ⌀ 11×41,body ⌀ 40×49)
Weight
MS-500(controller)
Approx. 0.6 kg
MS-510(converter)
Approx. 0.5 kg
Sensor unit
SD16NW
Approx. 0.2 kg
SD25NW
Approx. 0.2 kg
SD40NW
Approx. 0.35 kg
External connection
Any of the vacuum flanges (NW16, 25, or 40)
Power
24VDC±10%
Model: LC-450A/LC-450D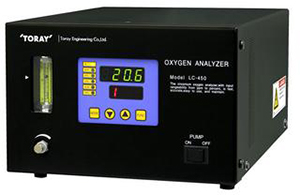 Measurement across a wide range of concentrations
Capable of displaying a wide range of concentrations, from ppm level to 100%
Improved sensor durability
Special coating used on oxygen sensor for greater durability
Wide AC power range AC100~240VAC(LC-450A)
* DC 24 V power used for LC-450D
Compact and easy to install
Shorter depth than conventional devices. Save space.
RoHS compliant
CE marking declaration of conformity
EN61010-1:2002,EN61326:+A3:2003
LC-450A specifications
Measurement principle
Zirconia concentration cell type
Type
Desktop type/panel mounted type
Display system
4-digit digital display (concentration display)
Measurement range
0-1 / 10 / 100 / 1000ppm / 1 / 10 / 100vol%O2 10-20~10-0atm  Automatic range
Repeatability
Concentrations in the range ±1% of full scale and 0-1 ppm, atm are out of warranty.
Sampling method
Continuous suction with built-in pump
Sample gas requirements
Pressure
Pressurization of 30 KPa or less
Flow rate
1,000~2,000mL/min
Humidity
Dew point below ambient temperature
Temperature
0 to 50°C
Others
Must not contain corrosive gas (fluorine gas, chlorine gas, sulfuric gas, etc.), gas containing organic silicone, flammable substances (including gas), oil or moisture
Reference gas
Atmosphere
Recorder output
Oxygen concentration output
Switch between 4-20 mA or 0-20 mA (0-10 V is optional); insulated; load resistance of 550 Ω or less
Recorder output range taken as full scale and oxygen concentration given in linear output
Output range
0-100%, 0-1000ppm, 0-100ppm, 0-10ppm Automatic/fixed range
Transmission output
RS-232C
Alarm output
FAIL (device error)
1 point
Non-voltage contact; contact capacity: 30 V DC/AC or less, 0.5 A or less
Contact point closes when device error occurs (contact point operation adjustable)
ALM (concentration alarm)
2 points (H/L)
Non-voltage contact; contact capacity: 30 V DC/AC or less, 0.5 A or less
Contact point closes when alarm occurs (contact point operation adjustable)
RDY (warmup signal)
1 point
Non-voltage contact; contact capacity: 30 V DC/AC or less, 0.5 A or less

Minimum open/close capacity of the non-voltage contact point is 12 V or higher; does not respond to extremely small loads

MRK (range marker) output
2 points
Non-voltage contact; contact capacity: 30 V DC/AC or less, 0.5 A or less
Warmup time
5 minutes or less
Dimensions
Body
210 mm (W) ×134 mm (H)×300 mm (D) (excluding projecting parts)
Weight
Approx. 6 kg
Gas connection
INLET
Rc1/4
BYPASS OUT
Rc1/4
OUTLET
Rc1/4
Power
100 to 240 V AC, 50 V A (normal conditions: 35 V A) 50 Hz/60 Hz
LC-450D specifications
Measurement principle
Zirconia concentration cell type
Type
Desktop type/panel mounted type
Display system
4-digit digital display (concentration display)
Measurement range
0-1 / 10 / 100 / 1000ppm / 1 / 10 / 100vol%O2 10-20~10-0atm  Automatic range
Repeatability
Concentrations in the range ±1% of full scale and 0-1 ppm, atm are out of warranty.
Sampling method
Continuous suction with built-in pump
Sample gas requirements
Pressure
Pressurization of 30 KPa or less
Flow rate
1,000~2,000mL/min
Humidity
Dew point below ambient temperature
Temperature
0 to 50°C
Others
Must not contain corrosive gas (fluorine gas, chlorine gas, sulfuric gas, etc.), gas containing organic silicone, flammable substances (including gas), oil or moisture
Reference gas
Atmosphere
Recorder output
Oxygen concentration output
0-10 V DC; insulated; load resistance of 600 kΩ or more
(Option: 4-20 mA DC; insulated; load resistance of 550 Ω or less)
Recorder output range taken as full scale and oxygen concentration given in linear output
Output range
0-100%, 0-1000ppm, 0-100ppm, 0-10ppm Automatic/fixed range
Transmission output
RS-232C
Alarm output
FAIL (device error)
1 point
Non-voltage contact; contact capacity: 30 V DC/AC or less, 0.5 A or less
Contact point closes when device error occurs (contact point operation adjustable)
ALM (concentration alarm)
2 points (L/LL)
Non-voltage contact; contact capacity: 30 V DC/AC or less, 0.5 A or less
Contact point closes when alarm occurs (contact point operation adjustable)
RDY (warmup signal)
1 point
Non-voltage contact; contact capacity: 30 V DC/AC or less, 0.5 A or less
Contact point closes during warmup (contact point operation adjustable)

Minimum open/close capacity of the non-voltage contact point is 12 V or 20 mA or higher; does not respond to extremely small loads

MRK (range marker) output
2 points
Non-voltage contact; contact capacity: 30 V DC/AC or less, 0.5 A or less
Warmup time
5 minutes or less
Dimensions
Body
240 mm (W) ×134 mm (H)×210 mm (D) (excluding projecting parts)
Weight
Approx. 5 kg
Gas connection
INLET
Rc1/8
BYPASS OUT
Rc1/8
OUTLET
Rc1/8
Power
24 V DC±10%, 1.25 A (30 V A under normal conditions)
Model: LC-860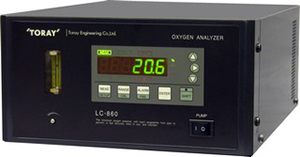 Low concentration measurement
Measurement range from ppb level to 100%
Easy to operate
Easy operation by separate keys.
Purge function
The more precious measurement is possible by stablizing the reference gas. (for models with purge function only)
High reliability sensor
Processing to prevent from degradation for the sensor is available (option).
LC-860 specifications
Measurement principle
Zirconia concentration cell type
Type
Desktop type/panel mounted type
Display system
6-digit digital display (concentration display)
Measurement range
0-1 / 10 / 100 / 1000ppm / 1 / 10 / 100vol%O2 10-20~10-0atm
Automatic/fixed range
Repeatability
Within ±1% of full scale
Oxygen concentrations of less than 1 ppm and concentrations in the 0-1 ppm, atm range are out of warranty.
Sampling method
Continuous suction with built-in pump
Sample gas requirements
Pressure
Pressurization of 30 KPa or less
Flow rate
~1,500mL/min
Humidity
Dew point below ambient temperature
Temperature
0 to 50°C
Others
Must not contain corrosive gas (fluorine gas, chlorine gas, sulfuric gas, etc.), gas containing organic silicone, flammable substances (including gas), oil or moisture
Reference gas
Atmosphere
Recorder output
Oxygen concentration output
4-20 mA/0-10 V
4-20 mA: insulated; load resistance of 600 Ω or less
0-10 V: insulated; load resistance of 500 Ω or more
Recorder output range taken as full scale and oxygen concentration given in linear output
Output range
0-100%, 0-10%, 0-1%, 0-1000ppm, 0-100ppm, 0-10ppm, 0-1ppm, 10-20-10-0 or Automatic/fixed range with arbitrary 4 ranges
Transmission output
RS-232C
Alarm output
FAIL (device error)
1 point
Non-voltage contact; contact capacity: 24 V DC/AC or less, 0.1 A or less
Contact point closes when device error occurs (contact point operation is adjustable)

ALM (concentration alarm)
2 points
Non-voltage contact; contact capacity: 24 V DC/AC or less, 0.1 A or less
Contact point closes when alarm occurs (contact point operation is adjustable)
RDY (warmup signal)
1 point
Non-voltage contact; contact capacity: 24 V DC/AC or less, 0.5 A or less
Contact point closes during warmup (contact point operation is adjustable)

Minimum open/close capacity of the non-voltage contact point is 12 V or higher; does not respond to extremely small loads

MRK (range marker) output
3 points
Non-voltage contact; contact capacity: 24 V DC/AC or less, 0.1 A or less
Warmup time
20 minutes or less
Dimensions
Body
288 mm (W) ×144 mm (H)×400 mm (D) (excluding projecting parts)
Weight
Approx. 10 kg
Gas connection
INLET
Rc1/8
BYPASS OUT
Rc1/8
OUTLET
Rc1/4
Power
100 to 120 V AC±10% 200 V A 50 Hz/60 Hz
Inquiries
East Japan : +81-3-5962-9775

West Japan : +81-77-544-6224