Oxygen Analyzers

For Food Packaging Products

LC-450F, LF-200
Model: LC-450F-ps (Push switch type)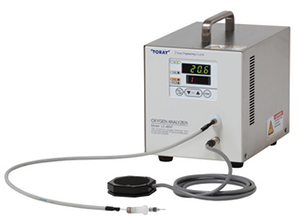 Minute sample measurement: 3 ml sample volume
- Uses compact sensor newly developed by Toray
Single-action measurement
Easy to determine when measurement has ended
- A buzzer sounds to notify the operator that measurement has ended
Hygienic exterior
- Hygienic design featuring a stainless steel cover and white panels
RoHS compliant, low power consumption
- Environmentally conscious design
LC-450F-ps (Push switch type) specifications
Measurement principle
Zirconia concentration cell type
Type
Desktop type
Display system
4-digit digital display (concentration display)
Measurement range
0-1/10/100vol%O2 
Automatic range
Repeatability
Within ±1% of full scale
Sampling method
Continuous suction with built-in pump
Sample gas requirements

Sample volume
3 mL or more/sample
Humidity
Dew point below ambient temperature
Temperature
0 to 50°C
Others
Must not contain corrosive gas (fluorine gas, chlorine gas, sulfuric gas, etc.), gas containing organic silicone, flammable substances (including gas), oil or moisture
Reference gas
Atmosphere
Recorder output
None
Transmission output
RS-232C (optional)
Alarm output
None
Warmup time
5 minutes or less
Dimensions
Body
150 mm (W) × 161 mm (H) × 210 mm (D) (excluding projecting parts)
Weight
Approx. 4 kg
Power
100 to 240 V AC, 50 V A
Model: LC-450F-sy (Syringe injection type)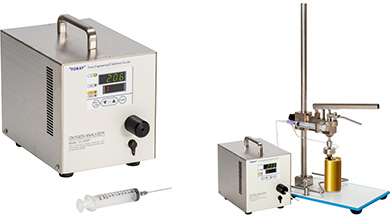 Example of combination
with headspace sampler(PF101).
Measurement can be performed simply by injecting a sample
- Easy to operate
Measurable with small sample volume
High-speed response, high durability
Includes syringe for easy sampling
RoHS compliant, low power consumption
- Environmentally conscious design
LC-450F-sy (Syringe injection type) specification
Measurement principle
Zirconia concentration cell type
Type
Desktop type
Display system
4-digit digital display (concentration display)
Measurement range
0-1/10/100vol%O2 Automatic range
Repeatability
Within ±1% of full scale
Sampling method
Injection with syringe
Sample gas requirements

Sample volume
5 mL or more/sample
Humidity
Dew point below ambient temperature
Temperature
0 to 50°C
Others
Must not contain corrosive gas (fluorine gas, chlorine gas, sulfuric gas, etc.), gas containing organic silicone, flammable substances (including gas), oil or moisture
Reference gas
Atmosphere
Recorder output
None
Transmission output
RS-232C (optional)
Alarm output
None
Warmup time
5 minutes or less
Dimensions
Body
150 mm (W) × 161 mm (H) × 210 mm (D) (excluding projecting parts)

Weight
Approx. 4 kg
Power
100 to 240 VAC, 50 V A
Model: LF-200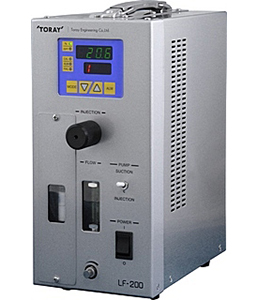 Best for embedding in packaging systems
Can be switched between automatic continuous suction and syringe injection
Equipped with new filter to prevent from oil which makes performance greater when measuring gases containing dispersed oils.
Filter can be replaced without removing the oxygen analyzer from the panel.
Equipped with a suction pump protecting function, it is possible to protect the pump by avoiding problems caused by on-site air blow cleaning.
Standard 200 V AC power for easy embedding in packaging systems (100 V AC is also available as an option).
LF-200 specifications
Measurement principle
Zirconia concentration cell type
Type
Desktop type/panel mounted type
Display system
4-digit digital display (concentration display)
Measurement range
0-1 / 10 / 100 / 1000pp  Automatic range
Repeatability
Within ±1% of full scale(for oxygen concentration of 1% or more)
Within ±2% of full scale; (for oxygen concentration of less than 1%)
Sampling method
Continuous suction with built-in pump and injection type

The concentrantion for injection type is for reference.

Sample gas requirements

Pressure
Pressurization of 30 KPa or less
Flow rate
1,000mL/min
Injection type: Sample size of 5 mL or more/sample
Humidity
Dew point below ambient temperature
Temperature
0 to 50°C
Others
Must not contain corrosive gas (fluorine gas, chlorine gas, sulfuric gas, etc.), gas containing organic silicone, flammable substances (including gas), oil or moisture
Reference gas
Atmosphere
Recorder output
Oxygen concentration output
4-20mA
Insulated; load resistance of 550 Ω or less
Recorder output range taken as full scale, and oxygen concentration given in linear output

Output range
0-100%, 0-10%,0-5%, 0-0.5% fixed range
Transmission output
RS-232C (optional)
Alarm output
FAIL (device error)
1 point
Non-voltage contact; contact capacity: 30 V DC/AC or less, 0.5 A or less
Contact point closes when device error occurs (contact point operation is adjustable)

ALM (concentration alarm)
2 points (H/L)
Non-voltage contact; contact capacity: 30 V DC/AC or less, 0.5 A or less
Contact point closes when alarm occurs (contact point operation is adjustable)
RDY (warmup signal)
1 point
Non-voltage contact; contact capacity: 30 V DC/AC or less, 0.5 A or less

Minimum open/close capacity of the non-voltage contact point is 12 V or higher; does not respond to extremely small loads

Warmup time
20 minutes or less
Dimensions
Body
134 mm (W) ×272 mm (H)×216 mm (D) (excluding projecting parts)
Weight
Approx. 7 kg
Gas connection
INLET
Rc1/4
BYPASS OUT
Rc1/4
OUTLET1
Rc1/4
OUTLET2
Rc1/4
Retrofit filter connection
Rc1/8
Power
100 V AC or 200 V AC
Inquiries
East Japan : +81-3-5962-9775

West Japan : +81-77-544-6224